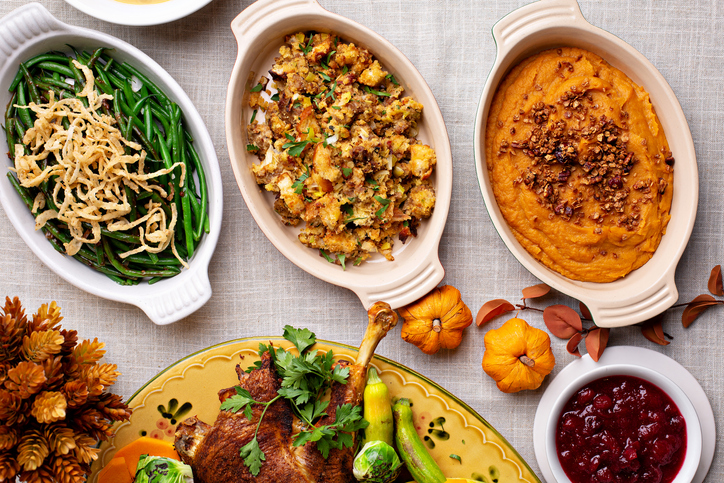 It seems as though people serve the same holiday side dishes every year. For instance, they make green bean casserole, sweet potatoes, and stuffing. This year, why not switch things up? In addition to making the meal better, your guests get to try new things. For the upcoming holidays, consider one or more of these delicious side dishes.
Brown Sugar Carrots
The great thing about this dish is even kids will love it. That's because of the sweet brown sugar glaze. However, they're eating something nutritious without knowing it. Likewise, adults will love this side dish.
For this side dish, you'll need the following ingredients.
12 carrots (cut into 3-inch pieces)
1/2 cup brown sugar
3 tablespoons of butter
1/4 teaspoon vanilla
1 tablespoon fresh lemon juice
For the first step, steam the carrots until they're tender. After that, melt the butter in a skillet over low heat. In the meantime, mix the brown sugar, vanilla, and lemon juice in a bowl. After mixing well, add the drained carrots and butter. Finally, cook these ingredients over medium heat until the brown sugar caramelizes.
Creamed Corn
What makes this dish so great? In addition to its incredible flavor, it's nutritious. Firstly, gather these ingredients.
Two 15-ounce cans of corn (drained)
1/2 cup milk
3 tablespoons butter
1 heaping tablespoon of flour
1/2 cup heavy cream
Salt and pepper
Cook the corn in a saucepan on medium heat. Then add the butter. Next, season the corn with both salt and pepper. Meanwhile, whisk the milk and flour in a bowl. After that, add this to the corn and heat through while stirring. Slowly add the heavy cream and continue stirring. Cook for about five minutes and serve.
Cranberry Sauce
As you know, it's not uncommon for people to serve cranberry sauce. However, this recipe takes it up a notch. Here's what you'll need.
12 ounces of cranberries (fresh or frozen)
1 cup orange juice
1/4 cup granulated sugar
1/2 cup brown sugar
1/4 cup orange marmalade
1/4 teaspoon allspice
1/2 teaspoon ginger
1 teaspoon cinnamon
Put all of the ingredients into a large saucepan and bring to a boil. Then reduce the heat to low and cook for about 10 minutes. Most importantly, remember to stir frequently.
It won't take long for the cranberries to pop. At that time, they'll transform into a sauce. Remove the pan from the stove and let the dish cool. If preferred, you can store the cranberry sauce in the refrigerator before serving.
You might also like: 10 Tips To Keep The Interior Of Your Car Clean
Bacon Green Beans
Instead of the traditional green bean casserole, try this recipe.
2 quarts water
1 1/2 teaspoon salt
1 1/4 pounds of green beans (fresh and ends trimmed)
1/2 cup chicken broth
Three slices of bacon
2 tablespoons bacon grease
Four shallots (peeled and chopped)
1 tablespoon parsley (fresh and chopped)
2 tablespoons garlic (minced)
1/2 cup apple cider vinegar
Salt and pepper
For this recipe, boil the water and salt in a large saucepan. Then add the green beans and cook for roughly eight minutes or until they're tender. In a skillet, cook the bacon, so it's crispy. Set the bacon aside. Drain all the fat from the skillet except two tablespoons. After that, add the garlic and shallots. Cook for two minutes.
Now, add the chicken broth and apple cider vinegar. Bring to a boil and cook for two minutes. Then add the green beans and cook for two to four minutes. Put the bean mixture in a serving dish. Before serving, top the beans with the bacon, parsley, salt, and pepper.
Disclaimer: The stock image is being used for illustrative purposes only, and it is not a direct representation of the business, recipe, or activity listed. Any person depicted in the stock image is a model.