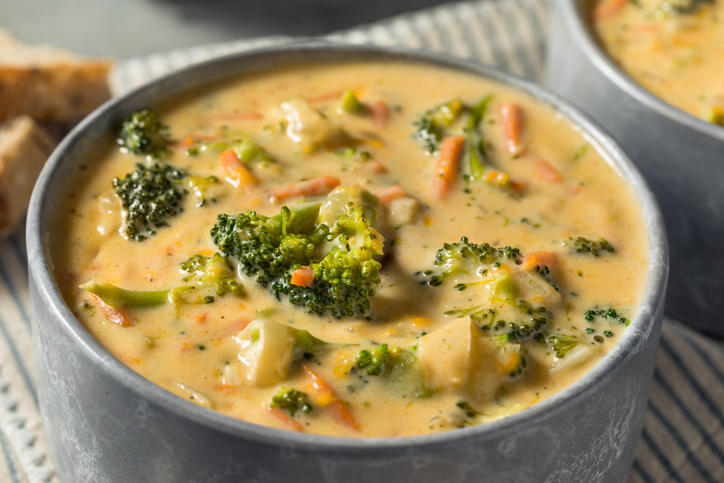 Do you struggle to find recipes that your entire family will love? If so, check out this excellent recipe for broccoli cheddar soup. Not only is it delicious, but it's also nutritious. Best of all, it's a great way to add a vegetable to your kid's diet. They'll enjoy it without realizing what they just ate.
Ingredients
When it's cold outside, this hearty soup will hit the spot. Just be sure to make plenty because there's a good chance everyone will ask for seconds. For this broccoli cheddar soup recipe, you'll need the following ingredients.
2 cups chicken broth
2 cups half-and-half
1/4 teaspoon dry mustard
1/4 teaspoon black pepper
One medium yellow onion (finely chopped)
Two carrots (peeled and chopped)
12 ounces fresh broccoli or 12-ounce bag of frozen and thawed florets (roughly chopped)
1/4 cup all-purpose flour
1/4 cup salted butter
1/2 teaspoon salt
1/4 teaspoon paprika
1 tablespoon butter
1/4 teaspoon garlic powder
2 cups cheddar cheese (grated or finely diced)
Directions
As delicious as this broccoli cheddar soup is, you might think it's hard to make. However, it's quite easy. Follow these directions.
Step One
Put the butter in a Dutch oven. Melt it over medium heat. Once melted, add the chopped onion and cook until it becomes translucent and tender. Usually, this takes about one to two minutes. Use a slotted spoon to place the onion in a bowl.
Step Two
Next, add 1/4 cup of butter to the Dutch oven. Again, melt it on medium heat. Then add the flour. Whisk continuously for roughly a minute to blend thoroughly. At that point, slowly add a cup of the chicken broth, again while whisking. After mixing the ingredients, add the rest of the broth along with the half and half. As before, you'll need to whisk continuously so there are no lumps.
Step Three
To the ingredients in the Dutch oven, add the cooked onions, as well as the fresh broccoli and carrots. Stir everything to combine well. Add the paprika, garlic powder, dry mustard, salt, and pepper. Again, stir, followed by reducing the heat to low. Simmer this for 10 to 15 minutes. You want the veggies to become fork-tender and the broth to thicken.
You might also like: The Ram 1500 Was Made To Turn Heads
Step Four
Once the soup reaches the desired texture, pour it into a blender. However, you only need to pulse it a few times to blend the ingredients. Next, add the cheddar cheese. Remember that you don't want to dump everything into the blender at once. Instead, add a half cup of cheese at a time. Again, pulse the blender to mix in the cheese. This will also help it melt. If necessary, you can adjust the salt and pepper at this time.
The broccoli soup is now ready to serve. You can either put it into a ladle and serve it at the table or pour it into individual bowls. Regardless, sprinkle a little bit of cheese on top. Then eat and enjoy.
Disclaimer: The stock image is being used for illustrative purposes only, and it is not a direct representation of the business, recipe, or activity listed. Any person depicted in the stock image is a model.