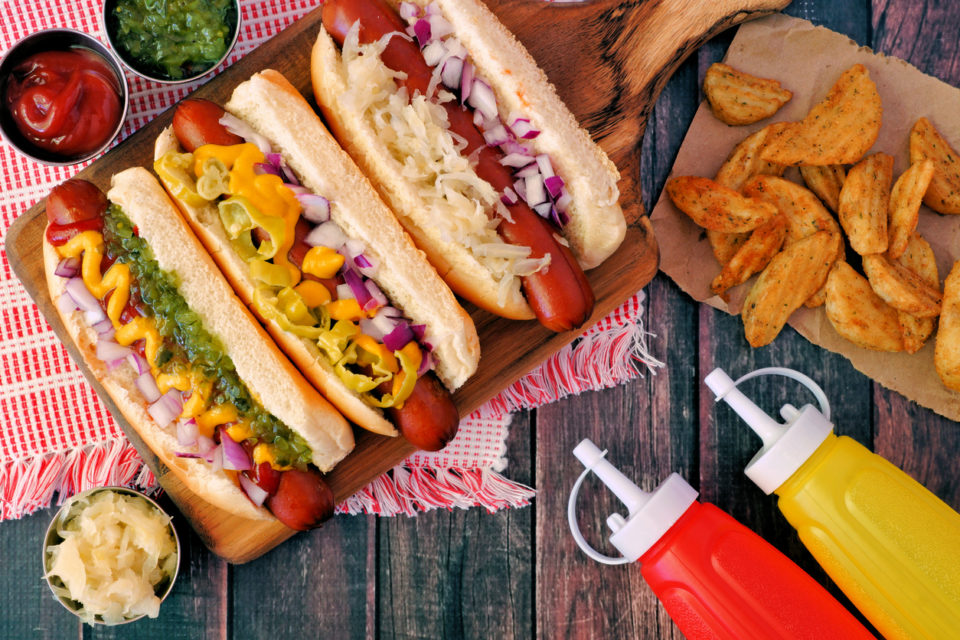 Summer is here, which means so are the long days and evenings of grilling, parks, picnics, and get-togethers with family and friends. And one of the usual stars of the summer show is the hot dog. But if the thought of serving up a simple dog on a plain bun isn't as exciting, perhaps it's time to change things up a bit. Try one of these 10 ways to upgrade your hot dog this summer, and find your new family favorite recipe.
1. You Mayo Want to Try This
There's nothing wrong with grilling your dog like usual. But when you get ready to top it, try mixing up your mayo for an exciting pop of flavor. Stir one teaspoon of Old Bay and two tablespoons of fresh lemon juice into a half cup of mayonnaise, and adjust to taste.
2. It Must-ard Be So Good
Make your guests think you've discovered a fancy new sauce. Try mixing 1/4 cup of real maple syrup and 1/4 cup of Dijon mustard for a sweet and warm condiment.
3. Perfect Pickle Picks
You could opt for the regular pickle relish or wake things up with your own house-made quick pickled carrots. Shred or shave two carrots into a medium bowl with one teaspoon of kosher salt, one teaspoon of toasted cumin seeds, and half a cup of white wine vinegar. Let it sit for 10 minutes, then strain and serve as a beautiful garnish.
4. Party Peppers
Throwing the dogs on the grill is undoubtedly a tasty way to bring out the flavor. While you're there, throw on some quartered and deseeded poblano or bell peppers to soften and char. Slice and top your hot dogs.
5. Skewer Success
Many people love adding onions and ketchup to their hot dogs. Try skewering sliced onions and cherry tomatoes and then grilling them. Once softened, serve each hot dog with a skewer.
6. A German-inspired Dog
Transform even a basic pack of hot dogs into something memorable. Mix up some maple mustard, then grill some onions and add pickled cabbage or sauerkraut.
7. Now That's a Spicy Hot Dog
If your guests love food with heat, grill some Anaheim or jalapeño peppers. Then mix one teaspoon of harissa paste into half a cup of ketchup. Finally, serve with sliced kimchi for a spicy crunch.
8. Sweet Heat Hot Dog
For a happy combination of warmth and sweetness, mince one chipotle in adobo sauce into half a cup of your favorite sweet barbecue sauce. Combine with grilled corn and sweet relish.
9. The Hot Dog, Southern Style
Grill some cherry tomatoes and fresh corn alongside the hot dogs. Serve the hot dogs topped with grilled tomatoes and corn and the Old Bay and mayo mixture for a refreshing summer meal.
You might also like: 5 Tips To Keep Your Home Cool This Summer
10. Very Veggie-ful
Lots of meat coming off the grill can be heavy on the stomach, so lighten things up with veggies. Then try adding pickled carrots, grilled bell peppers, and the Old Bay and mayo mixture for a crunchy, fresh treat.
A few simple additions can take your hot dogs from ok to "Oh, wow!" So make many options and let people create their own interesting hot dog combinations.
Disclaimer: The stock image is being used for illustrative purposes only, and it is not a direct representation of the business, recipe, or activity listed. Any person depicted in the stock image is a model.